Understanding Your Customers' Buying Intent
A key concept in sales and marketing is the "funnel" which describes the path from prospect to customer. There are several steps in a buying funnel (unique to every business), and at each step, you lose people, so the funnel narrows. As the name implies, the funnel has a wide mouth — this classically represents your potential customers.  When you engage someone for the very first time, they're entering your funnel. Historically, the people who make it through to the bottom of your funnel have "converted" – they become your customers.
I always like to think about the funnel using an analogy of the Gap. :
Customer walks by store
Customer enters store
Customer browses clothing
Customer tries on clothing
Customer gets in line to pay
Customer purchases
At each step along the way, you lose potential customers. For example, a guy who gets dragged into Anthropologie by his girlfriend isn't likely to browse and try on clothing. If the line for a dressing room or cash register is too long, you could lose people. The same principles hold true for photographers. People engaging with your content for the first time, whether on your website or elsewhere, are entering the top of your funnel.
Here's a cool infographic from Adam Cohen: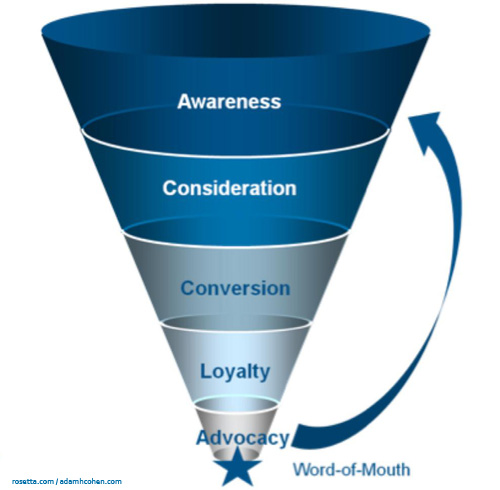 He refers to it as the "new" marketing funnel because the bottom of the funnel doesn't end with conversion (e.g. a purchase). He realizes that Advocacy is a huge part of Internet marketing. Someone who posts a review on Yelp or tweets about your brand is giving you free advertising — they are the ultimate customer.
At PhotoShelter, we think of all our marketing activities and where they fit into the funnel – both in terms of getting people to sign up for the service, and making sure our members become advocates. Facebook, for example, is a top of funnel acquisition activity, and the way we communicate with our community there is suited towards that demographic (e.g. more general interest photo topics rather than very specific PhotoShelter information). It's an engagement tool that builds awareness, and hopefully we can convert some of these people into paying clients.
Anytime a new service gains significant social traction on the Internet, marketers immediately try to understand how it can be used for customer acquisition. Pinterest, for example, is a virtual pin board that has gained an immense audience in a short period of time, and as a consequence, retailers are finding that it is sending lots of traffic their way. This is because lots of the activity on Pinterest is around clothing and interior design.
Because the process of buying clothing can be impulsive, the number of steps in the funnel can be very short. 1) See product on Pinterest, 2) click to the source, 3) buy product. Because Pinterest is driven by images, there is no significant need for additional information. Compare this to something like a mortgage. You couldn't sell a mortgage through Pinterest because there's no image to represent it, and the sales process is complicated and protracted.
Similarly, I contend that the process of buying photography (whether you're hiring a photographer or buying a print) is almost never an impulse buy. So Pinterest doesn't act as a bottom of the funnel mechanism. It's a top of the funnel tool that helps build awareness. But if you can never convert your top of the funnel activity, then it's worthless. Either the traffic at the top of the funnel is too unqualified, or you simply don't have effective conversion programs in place.
Understanding marketing in these terms helps reframe your activities into a digestible and actionable format, and simplifies the potential utility of a new service. So, how do you turn that "top of the funnel" traffic into conversions for your photography website? There is an entire marketing science dedicated to "conversion rate optimization" detailed in our Freelancer's Online Marketing Blueprint. It involves much more than "can the visitor find what they're looking for?" (Although that's a really big part.) One simple thing you can do immediately is make sure your site portrays a credible business that prospects would feel confident buying from (or doing business with). Ways to do this would include a robust "About" page with details about you and your business, client testimonials, descriptions about your chosen print and product options, and very clearly accessible contact information. Ease of use is another huge factor in conversion optimization. Another option is to promote a newsletter signup or social follow – that way, you move the visitor from a one-time stop-in to someone you have the opportunity to re-engage more regularly in the future as they think through their buying decision.  Short term promotions (e.g. discounts) also help influence the visitor to make a faster purchasing decision.
SEARCH INTENT
Similarly, buying intent can be gleaned through search intent. Consider the following searches:
best tvs
plasma tvs
Panasonic Viera TC-P55VT30 price
Which searcher is closest to buying a tv? I would argue that the higher specificity terms combined with the word "price" is more indicative of a person who is ready to pull the trigger compared to the much broader "best tvs." That person is probably at the beginning of the buying cycle and in a research phase.
This can be helpful when we analyze our organic search traffic and look at the keywords that people are using to find our website. Translating this example to a photography website, having a quick look at your keyword analytics will inform the nature of search traffic coming to your site, and where they are in the buying process. "Washington DC photos" likely drives a ton of traffic to Randy Santos' Washington DC stock photography website, but much of that is probably an unqualified mix of average web visitors with varied interests. A more specific search for "hi res Washington DC cherry blossom images" would produce less traffic, but the intent of the visitor is more clearly to license a stock photo. This informs a photographers need, when keyword optimizing a website, to mix broad terms that attract "top of the funnel" search traffic with more specifically keyworded content that can attract buyers who are deeper in the buying cycle and ready to engage with a photographer or make a purchase on the spot.
Help your visitors find what they're looking for and reduce friction in the buying process, and you'll be happy to find more of them reach the bottom of your funnel.